Race Date: Sunday July 15, 2018
Location: Trexler Nature Preserve, 5150 Game Preserve Road, Schnecksville, PA
Proceeds: 100% of the proceeds of Quadzilla go to our HCM Foundation services programs. We work directly with St. Luke's Hospital and Fox Chase Cancer Center in order to locate patients and families battling cancer. We then use the funds to help them pay household bills, copays, and medical costs while undergoing treatment.
Bib Pickup:
SATURDAY – 1:00 -3:00 p.m. @ Emmaus Run Inn (322 Main St., Emmaus, PA 18049) – OPTIONAL
SUNDAY – 6:30-7:15 a.m. @ Lehigh Valley Zoo
Race Begins: 7:30 a.m. sharp
Course Description: This course offers a little bit of everything: rolling hills, water crossings, macadam roads, open fields, single track through the woods, jeep trails, did we mention the rolling hills? The incredible vistas will have you believing you are no longer in PA but some place out west.
Entry Fee: $30 through 1/26, $35 1/27 through 4/27, $40 4/28 through 7/11, $45 registration on race day.
Registration:
Bib transfers allowed until July 1st. No exceptions. Anyone running with someone else's bib will be disqualified.
Age Limits: 16 and over
Age Groups: 19+under, 20-24, 25-29, 30-34, 35-39, 40-44, 45-49, 50-54, 55-59, 60+over
Awards: Top 3 M & F places overall, masters, and in age groups – No duplication of awards. Awards will not be mailed.
The Goods: Quality gender-friendly tech shirt – This is the most coveted shirt design in the area!
Race Policies: Rain or shine. Running with headphones is strongly discouraged. There will be no dogs and no jogging strollers allowed on race day. No refunds will be issued if you are unable to run on race day. You are strongly encouraged to carry water with you on the course and fill up as needed at any of the three aid stations. Race deferments will not be accepted. Bib transfers are allowed through July 1st by contacting the race director.
WARNINGS: This race is not advised for people who are just starting to run and have never run more than 5 miles in their life. Talk to any Quadzilla finisher and they will tell you that these hills are hard! And if that makes you want to run this race, just because it's hard, good luck.
Time Limit: 3 hours (19:21 pace). Runners who arrive at Aid Station 3 (mile 7) beyond 2 hours will be offered a ride back to the start and will receive a DNF.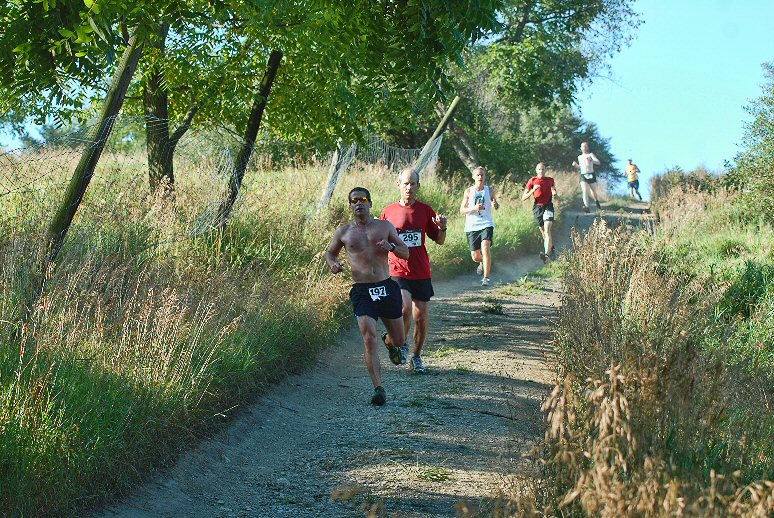 Photo: Tom Gettings