Without volunteers, it would be almost impossible to put on a great event. Please help support your friends and spouses by volunteering in an event they are participating in. Or do it simply because you love cheering on all of those incredible runners.
If you've ever run a road or trail event, you know how uplifting it is to hear people cheering you on from the sidelines. And you also know how grateful runners are when you pass them a cup of water out on the course, especially when they are completely dying for thirst.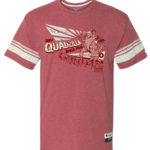 And – our volunteers get a unique shirt! Indicate your men's sizing when you sign up.
Thank you!
Carolyn Brzezicki
quadzillavolunteer@gmail.com
Volunteer Race Director, Quadzilla 15k
Quadzilla 15k Volunteer
DETAILS:
Please indicate your preference for volunteering.
Sign up below...
July 16, 2017
| Task/Item | Start Time | End Time | Available Spots | Item Details |
| --- | --- | --- | --- | --- |
| Aid Station 1 | 7:00 am | 10:00 am | #1: Filled | Medium |
| | | | 2 remaining: Sign up » | |
| Aid Station 3 | 7:00 am | 10:00 am | #1: Filled | medium |
| | | | 2 remaining: Sign up » | |
| Finish Line | 8:00 am | 11:00 am | #1: Filled | Small |
| | | | #2: Filled | Small |
| | | | #3: Filled | S |
| | | | #4: Filled | medium |
| Road Crossings | 7:00 am | 10:00 am | 4 remaining: Sign up » | |
| Post-race Food | 8:00 am | 11:00 am | #1: Filled | XL |
| | | | #2: Filled | L |
| | | | #3: Filled | XXL |
| Registration | 6:00 am | 8:00 am | #1: Filled | |
| | | | #2: Filled | S |
| | | | #3: Filled | M |
| | | | #4: Filled | L |
| I'll do anything! | 6:00 am | 11:00 am | #1: Filled | |
| | | | #2: Filled | XL |
| | | | #3: Filled | L |
| | | | #4: Filled | Small |
| | | | #5: Filled | M |
| | | | #6: Filled | L |
| | | | 4 remaining: Sign up » | |